CTCSC Fri June 23

News from Great Western 2006 where the CTCSC put on ANOTHER beautiful show.
The venue was absolutely spectacular...right on the lake:)
The theme this year was Camping and decorations were wonderful. Our ring was the talk of the show.
So much thanks goes to Jack and Karen Smith as well as the many others
who pitch in year after year to make this show such a success.
I had a wonderful time with old friends and meeting new ones.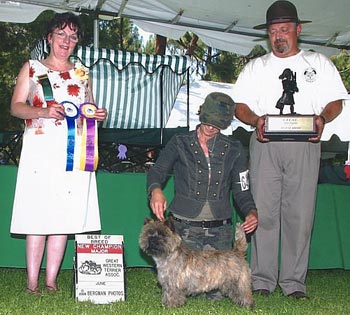 BOB and new Champion: Zalazar On The Road (Ch. Birselaw Billy Fury x Ch. Zalazar Voodoo Magic)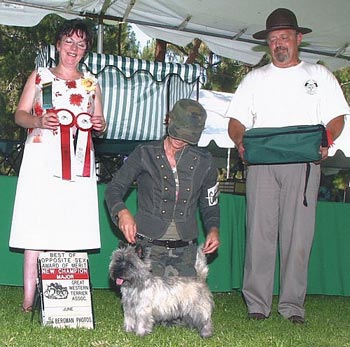 BOS/AOM and new Champion: Frigg's Princesse Pepita (Ch. Zalazar Jackpot x Cadagio Singha Gold)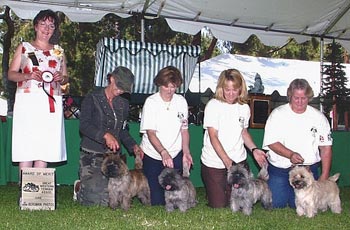 Judge: Linda Firth:)

BOB: Zalazar On The Road (Ch. Birselaw Billy Fury x Ch. Zalazar Voodoo Magic)

AOM: Ch. YellowBrickRoad Quite A Charmer (Ch. Fettercairn Joachim x Regina Pacis Doris)

BOS/AOM: Frigg's Princesse Pepita (Ch. Zalazar Jackpot x Cadagio Singha Gold)

AOM: Ch. YellowBrickRoad J-Lo Candela (Ch. Fettercairn Joachim x Wolfman's Lolly Pop Kid)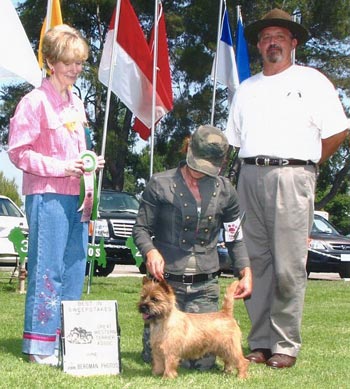 BIS Sweepstakes: YellowBrickRoad Girls Gone Wild (Ch. Zalazar On The Rocks x Ch. Zalazar American Intruder)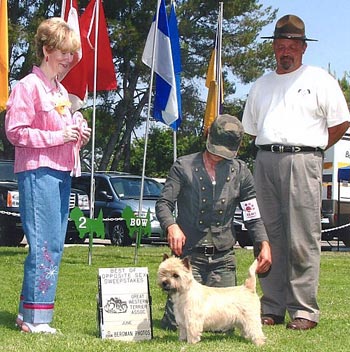 BOS Sweepstakes: YBR Marquee Cha-Ching (Ch. Robinson Crusoe Quite Macho x Ch. Thestrup's Female)