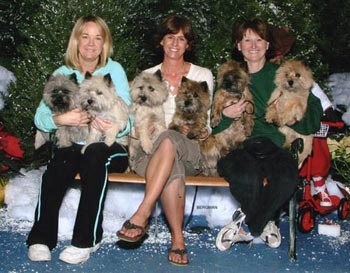 Picture from Long Beach starting at the left is Lucielle Mansfield with Ch. YellowBrickRoad's Quite A Charmer
and Ch. YellowBrickRoad's Private Label, in the middle is me with Ch. Zalazar Koh-I-Noor and YBR's Redcoat Bling Bling,
on the right is Vickie Hewlett with YBR's Redcoat Ruby Shoes and Harmonix Tequila Sunrise At YBR.