Champion Fettercairn Joachim becomes #9 Cairn Terrier All Breed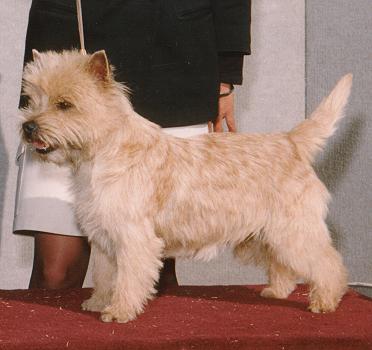 2002 was just my 2nd year showing dogs and my first year showing a "Special's".
I took Ch. Fettercairn Joahcim to #9 Cairn Terrier in the U.S.,
only showing locally in Southern California (between San Diego and Los Angeles) and two weekends in Arizona.
Here is the list of the Top 25 Cairn Terriers 2002, from AKC starting Jan 1, 2002, to Dec 31, 2002!
Congratulations to all the winners!!!!


Top 25 Cairn Terriers (All Breed Points)

1 Ch Rose Croft Best Intentions 1,974
2 Ch Kyleakin Scotsman Invasion 1,562
3 Ch Rose Croft Where There's A Will 1,497
4 Ch Misty Meadow General Patton 1,283
5 Ch Cairncroft Quite A Miracle 533
6 Ch McCairn's Sir Sam Steele 431
7 Ch Terriwoods First Mate 412
8 Ch Glynbrooks Heartbreaker 411
9 Ch Fettercairn Joachim 347
10 Ch Furcaln's Sweet Pea 331
11 Ch Believitor Not At Willowood 318
12 Ch Dogwood Pentium Processor 314
13 Ch Cerbo Tharrbarr J S Bach 308
14 Ch Car Omik Masterpiece 0'Mcerin 292
15 Ch Melrose Brassey King Pin 276
16 Ch Rimrock's Cheyenne Brigadoon 245
17 Ch Zigfelds Third Rok From Son 232
18 Ch Mavrik's Thunder Rolls 230
19 Ch Happicairn King Of The Road 224
20 Ch Critterkin's Great Balls Of Fire 215
21 Ch Robinson Crusoe Quite Macho 194
22 Ch Foxairn Karaoke 191
23 Ch Cairnhoe Highlander Of Wolfpit 176
24 Ch Chaya Cairn Sparkle Plenty 160
25 Ch Marquees Green With Envy 152