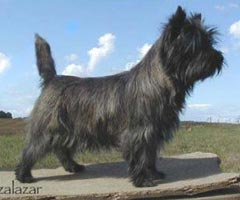 Yellow Brick Road Deja Vu

Color: Brindle
Sex: Female
Born: 11-30-2000
Reg.#
Bred by:
This email address is being protected from spambots. You need JavaScript enabled to view it.
Owned by: Mette Sørum
Yellow Brick Road Deja Vu
Parents
Grand-Parents
3rd Generation
4th Generation
5th Generation

CAN CH. Checkers San Michel Ranger

DK CH Cairndy Luca Loreto
Cairndy Arsunge
Tofthus Howdy
DK CH Cairndy Cecil
DK CH Sarimont Shangri-la
DKCH Cairndys Manestrale
Cairndys Dynasty
Dancairn Evita
Cairndy Zloty
DKCH INTCH KLBCH VV92 KBHV92 Cairndy's Only Oliver
DK CH KBHV85 KBHV87 INTCH Fettercairn Tot
Saleden Toasted Spice
Cairndy Pandekage
DK CH Cairndy Cecil
Cairndy Goldie
CAN CH McCairn's Emily Carr
AM CAN CH Terriwoods Best Dressed
CH Cairmar Fancy Dresser
CH Dapper Dan Of Wildwood
CH Cairmar Fancy That
AM CAN CH Kiku's Bouncing Bonnie
CH Cairmar Depth Charge
Kiku's Wee Bonnie Buttons
AM CAN CH Howdy's Serendipity Lucy
AM CAN CH Serendipity Sir Andru
AM CAN CH Sulinda Samson Of Worridale
Lairds Sunset MG
AM CAN CH Howdy's Serendipity Weewin
AM CH Bold Oaks Play It Again Sam
Lairds Sunset MG
Wolfman's Lolly Pop Kid
Am Can Ch Lowa's Play It Again Sam
Ch. Heilands Special Edition
Milords Merrilegs Mc Also
Ch Sunnylands Standing Room Only
Heiland's Lil Bagpiper
Ch. Heilands Lil Mischef Maker
Ch. Heilands Royal Blend
Ch. Heilands Pride n' Joy
Am Can Ch Lowa's Holiday From Asgard
Brigadoon's Unkw of Sugar Pine
Ch. Rowdy's Rough Rider
Ch. Brigadoon's Sassy Sasha
Asgard Lizbeth O'Glynncuri
Glynncuri's Wee Scamp
Glynncuri's Highland Fling
Wolfman's Savangelina Tinker
Am. Can Ch Savangelina's Touch of Sable
Ch Gordie of Urouharts'Castle
Red Flash of Alamanwa
Cairnnorth's Mc Beth
Ch. Tamacious Tiz A Coppertone
Kotwanga's Salty Sam Brodick
Ch. Isethebye's Wee Tamacious
Wolfman's Little Vixen
Cairn Jocko
Warpaints Little Wolfman
Braemar's Windermere
Deram Westminster Bells
Ch. Deran No Can Do
Ch. Deran Westminister Abbey R
"Yellow Brick Roads Deja Vu"
(Ch. Checker's San Michel Ranger x Wolfman's Lolly Pop Kid)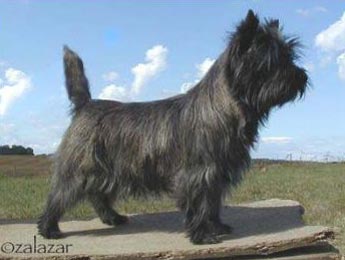 (Exported April, 2001 to Mike and Mette Sorum of Zalazar Kennels, Denmark)