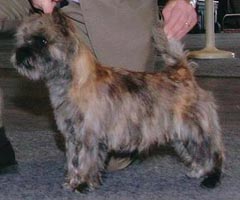 Ch. YBR's Redcoat Spice Is Right
Color: Red/Brindle
Sex: Male
Born: 3-16-04
Reg.#
Bred by:
This email address is being protected from spambots. You need JavaScript enabled to view it.
Owned by:
Pam Bobit
Ch YBR's Redcoat Spice Is Right
Parents
Grand-Parents
3rd Generation
4th Generation
5th Generation
AMCH Cairngold Captain Jack
GBCH Avenelhouse Breasclete
GBCH Uniquecottage Bristle Bird
GBCH Uniquecottage Brer Fox
Uniquecottage Gold Brick
Uniquecottage Gold Harrier
Uniquecottage Tergoirmoo
GBCH Uniquecottage Tree Creeper
Uniquecottage Gold Mimosa
Avenelhouse Morsgale
Uniquecottage Captain Russ
Uniquecottage Son Of Poldark
Uniquecottage Red Kiskadee
Avenelhouse Heather Mixture
Uniquecottage Bush Chat
GBCH Avenelhouse Acrobat Bird
Cairngold Constellation
Spirecairn Solar Systerm
Heshe Buddies Dan Dooley
INTCH W77 Heshe Sun Buddy
Heshe Daisy Dynamite
Cairngold Catch On
GBCH Courtrai John Julius
Cairngold Canoodle
Cairngold Catriona
Coalacre Milligan Of Cairngold
GBCH Cairngold Kramer
Coalacre Jenny Wren
Cairngold Catriana
Monary Salty Sam Of Spirecairn
Cairngold Columbia
Ch. Thestrup's More Talk Of The Town
Ir Ch Cadagio Talk Of The Town
Tweedisle Kings Knight
Ch Beaudesert Royal Viking
Ch Penticharm Silver Rocket
Uniquecottage Fire Fairy
Tweedisle Smitten Byebanks
Ch Crowneast Special Vintage
Tweedsile Smitten By Tansy
CH Larchlea Take My Breath Away
Ch Larchlea Take A Chance On Me
Ch Larchlea Here's Harvey
Ch Larchlea Winner Takes All
Ch Larchlea Winner Takes All
Ch Dechmont Christopher
Larchlea Blue Jay
Thestrup's Hotline Honey
Ch Zalazar Jackpot
Ch Cairndy Luca Lorito
Cairndy Årsunge
Cairndy Zloty
Ch Cairndy Kringle
Ch Cairndy Ymer
Ch Cairndy Månestråle
Hage Giffen
Ch Cairndy Qiwi
Ch Penticharm Royal Gamble
Cairndy Skæg og Ballade
Cairndy Zloty
Ch Cairndy Only Oliver
Cairndy Pandekage
"Ch YBR's Redcoat Spice Is Right"
AKA: Casey
(Ch Cairngold Captain Jack x Ch. Thestrup's More Talk Of The Town)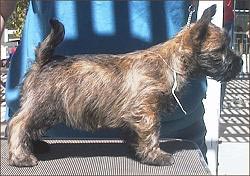 "Owned by Pam Bobit"